*Page last updated 04-14-2020 by Heath

If you're looking for how to build a community blessing box blueprints head over to freefoodnow.org
Brief History
Our give back program has quite a bit of history:  it started as building and promoting little free libraries, because a community that reads together grows together.  It later evolved into fixing up laptops for families in need, because a laptop that has 5 basic necessities of powerpoint, excel, word, wireless internet and DVD playback is enough to lift a motivated family out of poverty.  Then we pioneered the creation of community blessing boxes (share stations) in the Arvada community. The boxes allowed anyone to donate and receive goods from their neighbors.  And they quickly assumed the role as 24-hour accessible emergency-food pantries for the neighborhoods they resided in. We noticed the boxes were constantly being used so they were empty frequently. This led us to building our program's box-finder app, Free Food Now.  The first release of the app came in 2018 with the intention of helping people find and navigate to the boxes, we are excited and humbled by how this initiative and movement continues to unfold.
Next Steps
The goal for the next evolution of our give back program is to incorporate food pantries in Colorado on the app.  This will be a real challenge, because food pantry hours of operation often fluctuate and change, and we will need to form strong relationships with every food pantry we include on the app to ensure that the integrity of the app is providing the right information. To accomplish this, we have partnered with Hunger Free Colorado and the Colorado Food Pantry Network. We are excited for the app to officially hit both app stores, and to slowly add new food pantry locations to the map.
The Mission Of Free Food Now
to help people find free food at the time they need it.
As part of our commitment to the communities we serve, we are dedicated to being a connector, organizer, promotor and volunteer for organizations working to end hunger in the greater Denver Colorado Metro and beyond.
FREE FOOD NOW – APP UPDATES
Version 2 is LIVE on the GOOGLE PLAY STORE [March 21, 2020] – CLICK THE LINK BELOW!
Version 2 is PENDING on the APPLE APP STORE.
New features for v2 of the app!
~NEW FOOD PANTRY LOCATIONS
"Box Filled" Button! – App users can now mark a box as filled after the fill the box, this changes the color of the marker on the map for 3 hours to PINK!
Plus in addition to the Navigation button we've added buttons for: Edit Location, Add New Location & Call Food Pantry!
–check back to this page for press release and updates about new partnering organizations–
*Free Food Now is now a recognized non profit!*
Visit Their website!!

Frequently Asked Questions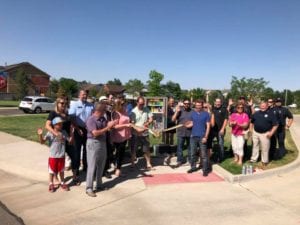 Community Volunteer Leaders
Director of Mission Arvada, Rebel Rodriguez | rebel@arvadarising.com
Coordinator, NAC Food Pantry Sharon Wilson | nacdenver.foodpantry@gmail.com
Organizer Contact: Free Food Now | freefoodnow10@gmail.com
"Together

we can

create a stronger, healthier community"