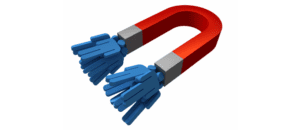 I'm in a position where I know how to accurately market a website for a business through inbound marketing.  I know what it can do, and also that this is the future of essentially  how we will all conduct business.  They're calling it "liquid content," because you're always telling a story, starting a conversation, and answering customers questions through your business blog.  This is the essence of what inbound marketing is.

Knowing how to market a business using inbound marketing is the first step to convincing a business how they should market their business.  This is a step I'd like to skip, but is totally necessary in order to achieve the outcome business owners envision for their business.
Push Content Creation
When someone walks into a car dealership they often know more about the vehicle than the salesperson–this is true in all aspects of business if you choose to inform your customer.  I'm reading To Sell Is Human by Daniel H. Pink right now and the example he uses in chapter 1 is as follows.
At a typical used car dealership customers are educated beyond belief before they even walk in the door.  Its understandable–the customer does not want to be "had" or otherwise ripped off.  CarMax saw this as an issue, so they went the extra mile to give customers "piece of mind" by implementing a system where its salespeople make the same commission on a new car that they make on a used car.  This eliminated the "push" customers would feel their car salesperson was giving [for their own benefit].  CarMax did everything they could to give the customer piece of mind through a completely transparent and hassel free transaction.  As a result of this CarMax now generates $9 billion in revenue every year.
The step I struggle with is first convincing businesses this is the direction they should also be going, and convincing them to restructure their business to allocate time towards manifesting their business blog.  I want to go straight to training businesses on how to do it before they're fully convinced.  Truth is, most businesses don't want to change.  They're often content where they lie, which makes skipping the step of convincing businesses impossible to ignore.  Content creation is the future, and the future is now.
Generating Leads
Just like CarMax creating an online database to give their customer's piece of mind, that is what you can do with your business blog.  You want to answer your customer's questions before they even ask them.   If you aren't answering their questions, I guarantee your competitors are.   If you had a question about whether to buy a fiberglass swimming pool or a cement one–and you Googled that question–would you buy from the business who answered your question, or the one you've never heard of before that appeared in your local Yellow Pages? If you were looking for a website for your business and needed to know if inbound marketing was the way to go would you choose a company who created a blog post answering your question or one without a business blog? (:
The future of your business growth lies within inbound marketing and your business blog.  Yes, its not the easiest thing to overcome learning how to write blog posts–especially if you've never been a writer.  Just ask Marcus Sheridan of The Sales Lion.  He wrote a book about his success with inbound marketing while using it to sell swimming pools in Richmond, VA and he's never in his life been a writer (prior to creating his blog).  He started somewhere, and that was answering his customers questions so he didn't have to anymore verbally.  Now when he goes on a sales call the customers are just as educated as he is on the subject matter and are ready and prepared to write him a check.  Marcus is now going around the country giving talks to businesses about the success he's had.  He's even received a book deal from Seth Godin's publishing agent.
Your Turn
How can your business benefit from inbound marketing? Respond in the comments below 🙂