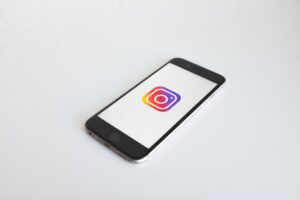 Mastering social media can be a complicated task. There are countless platforms, features, and techniques that can build your brand and your following online. One social media platform is integral to online success: Instagram for small business. To figure out the most effective strategy for your company's Instagram, it's vital that you understand the difference between an Instagram wall post and a story, and how to use them together.
Knowing the key differences between an Instagram story and an Instagram wall post can turn your page from boring and monotone to engaging and exciting. Being personal online can be difficult, but by utilizing both your Instagram story and wall posts, you can cultivate a presence that is both personal and engaging and forwards your brand's narrative. This blog will give you the key points to remember when creating your Instagram stories and wall posts to work in tandem with one another.
First, Let's Define Both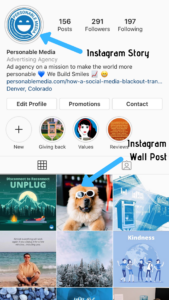 Before we get into the differences, let's establish what these both are, starting with an Instagram story.
An Instagram story is a more casual post. Pictures or videos uploaded to your story will be available to your followers for 24 hours only: after that, the story disappears. The story is integral in your page's personality and follower engagement.
An Instagram wall post is a post that features a picture or video that becomes permanent on your wall. You are able to post multiple pictures or videos at a time, all in one wall post! A wall post will include a caption by you, and the ability to tag a person or location to your post as well!
Instagram for Small Business: Key Things to Know About Your Wall Posts
When doing a wall post, you will post a picture with a caption. It's important to choose relevant and visually appealing pictures for your wall posts! Make sure each wall post tells a story and has a point: choose a picture that is relevant to your business, brand, or product.
Make sure you're aware of all the features you can utilize on a wall post. You can tag another account in any post! This can come in handy when posting about partnerships or posting pictures of your employees or customers. Tagging someone in a photo will notify them that you posted and will let anyone looking at your wall post click to their profile! You can also tag a location on your Instagram wall post. When you tag a location, anyone who looks up that location will see your post, so it's a great way to get your wall post seen by your community!
Lastly, make sure you craft a picture-perfect caption! You want your caption to be short, sweet, and to the point. Something engaging that also tells the story of your brand, and ties perfectly with the picture!
Check out Personable Media's St. Patrick's Day post for some caption inspiration: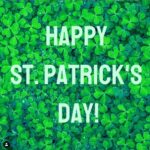 "As a #RemoteBusiness we are used to celebrating St Patty's Day with a virtual toast!
Cheers to our awesome clients and partners, many of which are located all over the US!
#stpatricksday #toast #cheers #remote #online #bepersonable #consulting #remoteCTO"
The main thing to remember with your Instagram wall post is you have to choose a picture that well represents your business and your brand and find a perfect caption to pair it with. Do this, and you'll nail your wall posts!
Instagram for Small Business: Key Things To Know About Your Story
In your Instagram story, you can build a narrative separate from your Instagram page. The series of slides that tell your story should always tie into themes of your brand and business, but if you wanted to feature a story about a specific event, person, or fundraiser, an Instagram story is a great place for that. It's a great place to execute partnerships with other businesses as well, especially if your partnership features an ad for another business.
Building a narrative through a story can be separate from the story of your Instagram wall. For example, an Instagram story is a great place for casual videos coming directly from people in your business or from influencers. "Instagram Takeovers" are a great example of this.  Asking someone in your company to take over the Instagram for the day, giving your clients a look into their day to day life, is a great way to show personality and engage with your following. Because this takeover is only temporary, you don't have to worry about it fitting into the story you are telling on your wall post. Let it tell its own narrative: an employee sharing how much they love their job is great advertisement in showing how personable and friendly your brand is. The most important thing to remember about your story is to keep it active, personal, and engaging.
How Instagram Posts & Stories Work Together
Your Instagram stories and wall posts will be different, but they must work together to grow your brand and your bottom line. For example, if your business has an upcoming sale you want to advertise, it might be best to post the advertisement for the sale on your story. On your wall, though, you can create a post aimed towards promoting the products that are on sale. That way, your viewers see on your story that you have a sale, and then are reminded by your wall post that you have awesome products to purchase. Primed with the knowledge of the sale and the quality of your products, they'll click on your link in your bio and do some online shopping. When these two features work hand in hand, you can craft an awesome narrative that furthers your company's brand.
Wrapping up
You can maximize the effect of your account by having a clear understanding of how to best utilize the platform's features, and I hope my blog here today helped you see how the differences in stories and wall posts make them perfect to work together to grow your business.