These days, many more people are wanting to become involved in projects or feel a sense of community with those around them.Many are also more motivated now with the progression of technology, and thus the almost instantaneous dissemination of information, to continue to learn and grow into healthier and happier people. How then, do we create a sense of connectedness and community in sharing and passing along information? Create lending libraries.
What Is A Lending Library?
According to the official Little Free Library website they define it like this:
What is a Little Free Library? It's a "take a book, return a book" gathering place where neighbors share their favorite literature and stories. In its most basic form, a Little Free Library is a box full of books where anyone may stop by and pick up a book (or two) and bring back another book to share. You can, too!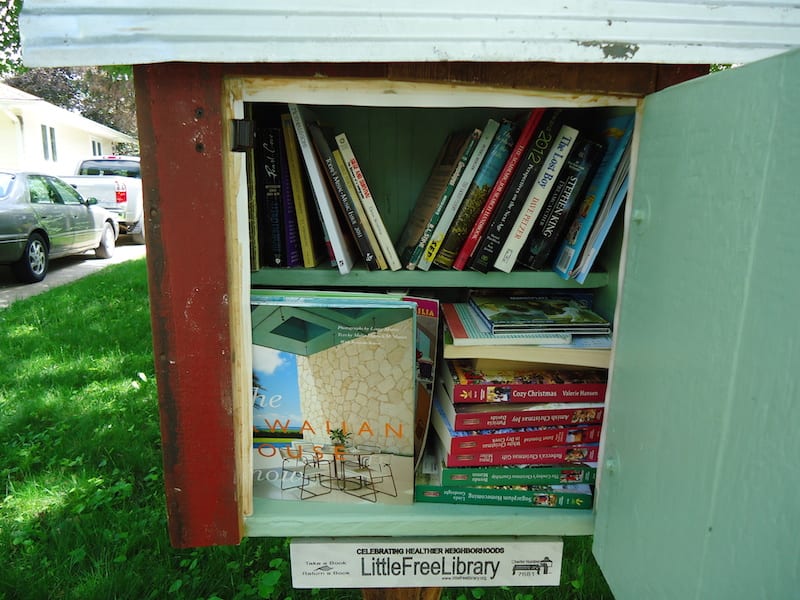 Lending libraries are springing into existence all around the world as a means to foster creativity, cooperation, knowledge and understanding between all. Simply put, a lending library is an ever-evolving collection of books, letters, pamphlets or any other resource where people are encouraged to take a book and either keep, return or replace it with another, ensuring a free flow of inherited information, wisdom and inspiration throughout the community.
Where Can I Find A Lending Library?
Popular places where lending libraries have already been created are in front yards, businesses, gardens, community centers, school yards and many other areas. Mary Crooks Kirkpatrick, an Iowa City, Iowa resident, has put up two lending libraries in recent months that are located in her front yard as well as in her garden a few minutes away. She says, "lending libraries help the community by making books (and other resources) available to people who might otherwise not have access to them. They can offer a wide range of reading materials that expand the minds and hearts of those who take advantage of the opportunity."
As the age of information continues to unfold, the creation of lending libraries is sure to become a well-known and celebrated phenomenon. In Manson, Iowa, a lending library was set up in March of 2014 at Rost Motor Company. With one lending library now in place in this already tightly-knit community in northwest Iowa, it is safe to say others will soon begin to join this organically growing movement.
We invite you to share this article to help raise awareness about lending libraries.