Personable Media, a media company with an appreciation for art and community engagement, is sponsoring the Arvada Young Professionals (AYP) at this years Sand in the City event in Arvada.
About Sand in the City
The Arvada Chamber of Commerce's 5th annual Sand in the City Festival is Colorado's premier beach party. The event raises funds and awareness for the Arvada Chamber of Commerce.  Many people are familiar with Sand in the City® Arvada and the amazing sculptures, world-class entertainment, massive kids' zone and unique vendors. What people may not be aware of is the process of creating the sculptures.  These impressive creations are a labor of love for local businesses, organizations and community groups. The process offers teams an amazing bonding opportunity, creative outlet and great exercise.  This year, a portion of all event proceeds will benefit Hope House.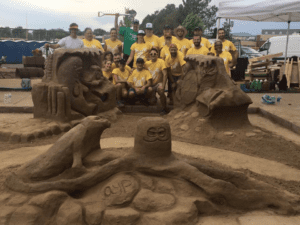 About AYP
The Arvada Young Professionals (AYP) is dedicated to positively shaping the future of Arvada through professional development, community involvement and building authentic relationships.   This AYP team has placed first or second in each running of the Sand in the City events, and hope to re-claim their title after last year's second place finish.  Follow AYP on Facebook for updates on the event!
We wish the Arvada Young Professionals the best of luck this year!